EPF Youth Group - May updates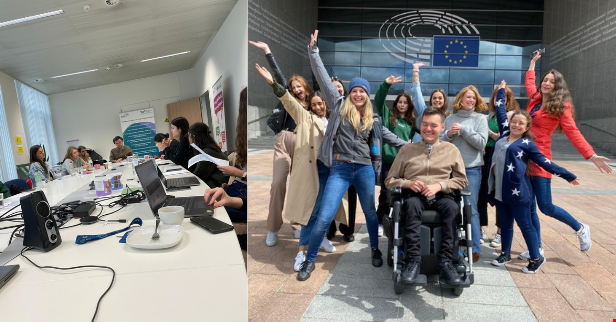 By the EPF Youth Group
After two years of online meetings, we as the EPF Youth Group met up in Brussels for our Spring Youth Group meeting at the end of May for a wonderful, jam-packed weekend of welcomes and introductions, a very sad goodbye to Ivett Jakub (former EPF Youth Group President) and to continue working on our Sexual Health and Wellbeing and Young Patient Involvement projects.
Day one began with a pizza night and ice-breakers led by Anastasia Semaan (current EPF Youth Group President), followed by a meet and greet with filmmaker Davide Gambino and video recording session for our Sexual Health and Wellbeing project and drafting key recommendations from the Young Patient Involvement survey.
A huge thank you to Julie Thill for organizing the weekend!
Here are a few reflections from some of our EPF Youth Group members who attended the Spring meeting:
"Being able to meet face to face was honestly a surreal experience and it was long overdue. The best part was being able to get to know the personalities of all of our wonderful YG members, and being able to make long-lasting memories with each of them. They have always been so hard working and fantastic to collaborate with, but really getting to know them as people and not just faces on a screen was amazing.
I am most looking forward to seeing the progress that we make as a team, now that many of us have also met face to face…I am also looking forward to seeing where our Sexual Health and Wellbeing project progresses and where it concludes." - Anastasia, EPF Youth Group President
"It was so inspirational to see and talk to everybody. I think I've never been in a group as fun, calm and comforting as this one. I feel honored to be part of it." - Cornelia, EPF Youth Group Vice President
"My favorite aspect of the meeting was seeing each other for the first time in person, feeling the motivation and excitement of one another, and having meaningful conversations with time passing by so fast…I'm extremely excited to put some work in and see our new projects unfold." - Erato
"I am looking forward to encouraging patients' organizations across Europe…to see young people as an inevitable part of active European citizenship. Exchanging information and experiences is fundamental to empowering young patients." - Blaz
"It was such a pleasure to meet all the young advocates who are experts in their own fields. The whole environment was so inspiring; it felt like home. I am looking forward to continuing the work we have already started and to learn more from these amazing people." - Bianka
"My favorite part was the honesty rounds that created a strong bond between us, even in such a short time. I am looking forward to working with all these inspiring people and achieving the goals that all of us have set in this group, together." - Konstantina
"It was really nice to meet everyone else in the youth group in person. Everyone brought a kind, welcoming and enthusiastic energy and I'm really excited to work with and learn from other young advocates who are equally as passionate about making positive change for the young patient community." - Bhagirathi