AI in Healthcare: Advancing Patient-Centric Care through Co-design and Responsible Implementation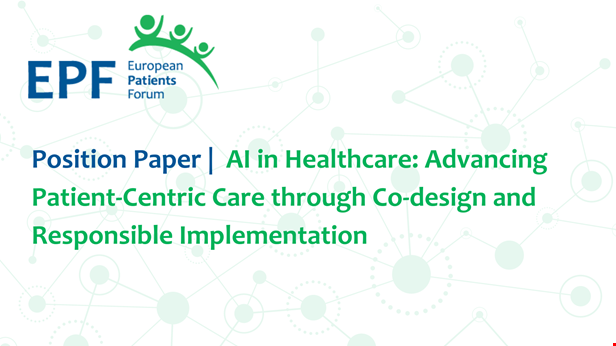 This position paper explores the applications, benefits, and challenges associated with Artificial Intelligence (AI) in healthcare from a patient perspective, and provides key recommendations for a responsible deployment of AI solutions.
The considerations and recommendations presented in this paper are based on a survey conducted by EPF in Spring 2023, targeting patient organisations and individual patient advocates, and the discussions with participants of a bootcamp on Artificial Intelligence conducted by the Data Saves Lives initiative that took place in March 2023. Their valuable insights, coupled with the expertise of EPF's Digital Health Working Group, EPF's members, and Secretariat, have shaped our recommendations.
This paper is addressed to policymakers, developers, and research partners who play a vital role in legislating, developing, and deploying AI solutions in healthcare. Our goal is to communicate with this diverse group of stakeholders about the importance of developing AI solutions in healthcare that genuinely benefit patients by upholding the principles of patient safety, transparency, privacy, human autonomy, co-design, accountability, and education.
In our recommendations, we advocate for the application of 9 guiding principles. We want to make sure that artificial intelligence is applied in healthcare to enhance efficiency, fairness and ultimately, improve patients' lives.
Check out the full position paper, read more here.