EMSP Virtual Conference 2020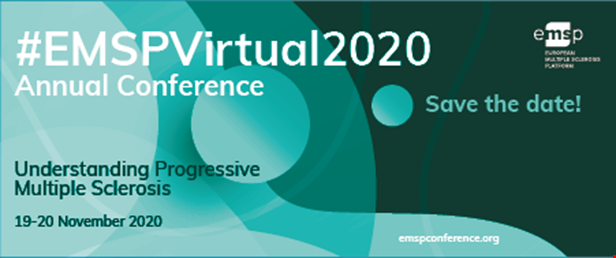 This November, the EMSP Annual Conference goes virtual under the theme Understanding Progressive Multiple Sclerosis. The European Multiple Sclerosis Platform's response to the pandemic is to host the conference online and make the registration free of charge for everyone interested.
Join the European MS Community on the 19 th and 20 th of November for what promises to be an insightful virtual experience with high-powered networking sessions and impactful keynote presentations! Topics include data collection, rehabilitation and there will be a special focus on the latest developments in treating progressive MS, best practices, and daily life tips for those affected by this form of MS.
This is your opportunity to meet with other MS experts, connect, learn and discover with people from across Europe. Join the European MS community in its mission to improve the quality of lives of the people living with and affected by Progressive MS.
Check out the event's programme for more details the incredible speaker line-up featuring prominent presenters from the field of Multiple Sclerosis.