Shot Callers Part 2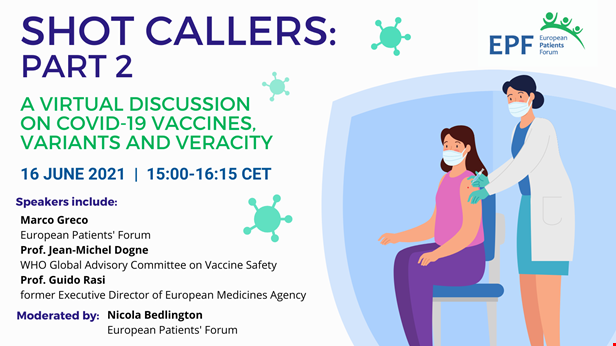 EVENTS
ACCESS/HEALTH INEQUALITIES
PATIENT SAFETY
PATIENT INVOLVEMENT
We return with our second edition of our Shot Callers to shed some light on the European vaccination campaign and answer important questions regarding COVID-19 variants and vaccine misinformation.
Join us for another interactive virtual discussion with high-level experts from the World Health Organisation (WHO) and European Medicines Agency (EMA). We'll answer questions concerning the following:
Are the vaccinated immune to new variants?

Will the COVID-19 jab become an annual occurence like the Flu shot?

Are

certain vaccines more suitable for certain groups?

What are the known adverse effects of each vaccine?

Are certain

vaccines

"

better" than others?

much much more....
We're happy to have the following speakers return to elaborate on the latest updates on COVID-19 vaccines:
Prof Jean-Michel Dogne, WHO Global Advisory Committee on Vaccine Safety
Prof Guido Rasi, former Executive Director, EMA
Marco Greco, President, EPF
EPF Special Advisor Nicola Bedlington will moderate the discussion and invite live questions from the crowd.