Stroke Alliance for Europe launches 2nd webinar in the Life After Stroke Series 2021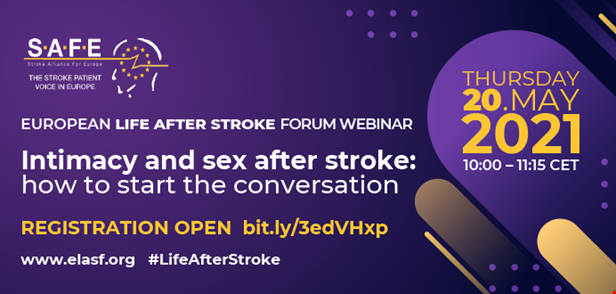 The second in our series of free webinars on Life After Stroke - Intimacy and sex after stroke: how to start the conversation, on 20 May, is now open for registration.
Intimacy and sex are important. However, for many stroke survivors this an uncomfortable subject with many struggling to come to terms with their 'new' body or identity and coping with the implications of this. Additionally, many healthcare professionals do not feel confident or able to talk about sex or to know how to best advise and support patients or their families. 
This session will share insights from several perspectives and suggest how we might begin positive and open conversations about intimacy. It also underlines the need for greater awareness about sex and intimacy after stroke.
Registration is free at bit.ly/3edVHxp
If you missed our first event, Priorities, challenges and ways forward, you can now catch up on demand at elasf.org