AI Webinar Series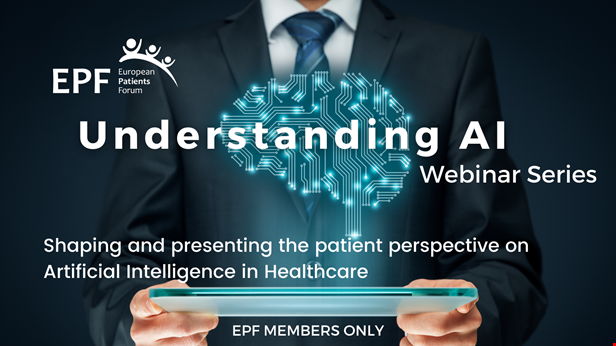 As one of the core activities supported by the EU AI Fund, the overall objective of the webinar series is to shed light on AI in healthcare. The series will particularly focus on the possible advantages but also risks and pending questions for patients, while exploring specific implications for the healthcare sector.  
The Understanding AI webinar series will present complex technical content in an understandable and engaging way to equip the European patient community with the necessary know how to shape and present the patient perspective on a new and increasingly important policy topic that is becoming an important field of policy discussion both at European and national level. These webinars are open to EPF Members only.
WEBINAR 1 – AI in Healthcare: From Science Fiction to Reality
(8 July 2021)
Introduces the concept of AI and its implication in healthcare as well as introduce a case study and the AI Fund. The webinar will cover pros, cons, possible attention points and benefits of AI for patients.
Speakers:
Frederike Kaltheuner, European Artificial Intelligence Fund

Anca Petre, Founder, 23 Consulting
WEBINAR 2 -
EU Legislation AI
(DATE TBD)
WEBINAR 3 - AI Ethics and Implications (DATE TBD)
WEBINAR 4 - AI & Medicines Innovation

(DATE TBD)
WEBINAR 5 - Patients, Healthcare Professionals & AI (DATE TBD)
Follow our channels to get the latest updates on dates, topics and speakers!
**The webinars are open to EPF members only. For more information, please contact us elena.balestra@eu-patient.eu**