#EUFluDay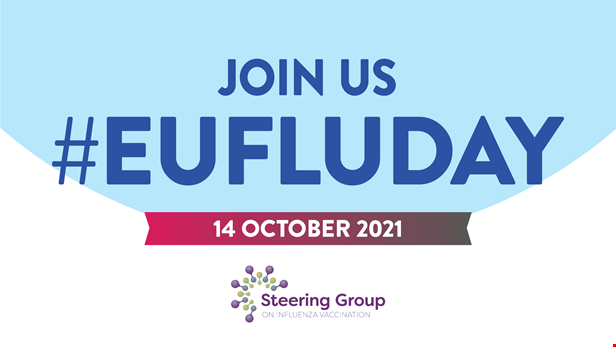 EVENTS
ACCESS/HEALTH INEQUALITIES
To celebrate EU Flu Day 2021, the Steering Group on Influenza Vaccination is organising a webinar "One voice to protect populations from flu in the age of COVID-19" on 14 October 2021 from 10:00 to 11:30 CET.
The 2020-2021 flu season saw remarkably low rates of flu circulation due to the lockdown and social distancing measures taken to combat the pandemic. As societies open up again with COVID-19 vaccination roll-outs, the risk of a severe flu season is high. Therefore, it is all the more important that flu vaccination campaigns are strengthened, especially to protect vulnerable populations.

Influenza will continue to place a considerable burden on health systems in any normal season, but we are also facing new types of challenges. While the risk of complacency is growing due to the low flu circulation, world leading experts are simultaneously warning about severe challenges in our ability to predict the epidemiology of the upcoming flu season.

Furthermore, discussion on COVID-19 booster jabs raises a number of possible issues in the context of parallel roll-out of flu and COVID-19 vaccination campaigns. These range from logistics around distribution, administrative burdens on health professionals and systems, as well as the hurdle for citizens to make two vaccination appointments. Moreover, evidence remains sparse on the safety of administering the two vaccines simultaneously and on the need for influenza vaccination this season.

All these issues highlight the need to raise with EU and national policymakers the threat that influenza poses annually as well as in times of COVID-19 pandemic and share expertise on how to address it. This will be the main objective of EU Flu Day 2021, which is being organised by the Steering Group on Influenza Vaccination. In particular, the event will focus on the various challenges European and national health authorities face in view of the COVID-19 pandemic's spill-over effect on routine vaccination.