The official Patient Empowerment Campaign video!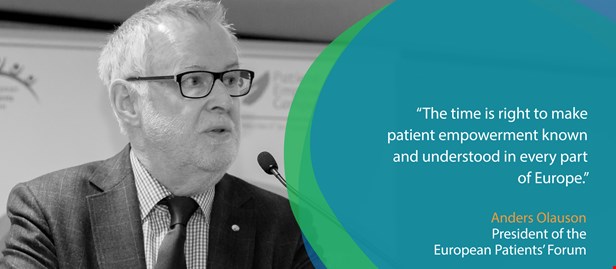 We are delighted to share with you the official Patient Empowerment campaign video! In the video, patients share their views on why patient empowerment is important, and explain why we need to act now to make patient empowerment a reality.
What happened this month?
Patient empowerment means something different for every patient and for our campaign video we asked some of them to share their views with us. If you would like to hear more from them, watch their full interviews here!
We also continue to translate the campaign leaflet into all EU official languages to ensure that the campaign material reaches the widest possible audience in the EU. We are pleased to be able to share it with you in four more languages: Bulgarian, Romanian, Slovak and Lithuanian.
As part of the Patient Empowerment Campaign, EPF is collecting information and evidence on good practices on patient empowerment of activities that are already happening in different parts of Europe. To help you share and submit the information, you can use the form on our website. We encourage you to complete it and share it with your network. Eventually, we aim to share the information via an online repository, as an inspiration for others who may wish to take action to help patients become more empowered.
What is next?
By the end of 2015 EPF will release two significant documents for consultation: first, the "Charter of Patient Empowerment" which is a set of fundamental principles of patient empowerment in ten points, as defined by patients. The Campaign's launch conference in May already resulted in key steps towards formulating this charter.
The second document is the "Multi-stakeholder Roadmap to Patient Empowerment" which will be the basis for concrete actions that European policy-makers and healthcare stakeholders should take.
These two major documents will be officially released early next year at a European Parliament roundtable event. More information will follow in the next issue of this newsletter.
Contact: EPF Communications Assistant, Valentina Stylianou, valentina.stylianou@eu-patient.eu