Closing event of the Summer Training Course for Young Patient Advocates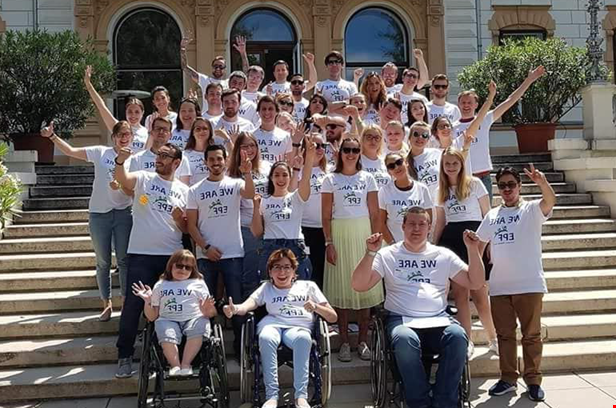 EPF believes young patients are the future of patient advocacy. This is why have we continued to strengthen our youth-related activities in 2018 as well, with the second edition of the EPF Summer Training Course for Young Patient Advocates – Leadership Programme (STYPA).
This year's edition built on the theme of last year on overcoming discrimination and expanded on the concept of inclusion. The purpose of EPF's Summer Training 2018 was to support, through high-quality training and coaching, patient representatives who have the motivation to learn more about advocacy and maximize their leadership potential. In this context, the main aims were:
1. To contribute to building capacities of young patients and their representatives in order to be involved in meaningful way in patient organisations and advocacy work in their respective countries.
2. To build on the success of the first edition by strengthening the informal Summer Training network and by creating momentum and sustainability in the advocacy planning of young patients.
EPF commissioned "People Dialogue and Change", an organisation specialising in youth participation and leadership, to design and conduct the training course. In total, 39 participants aged 18-30 from EU Members States and the Western Balkan countries took part in it.
The Programme itself included the following three phases:
An online learning phase through a web platform
A three-day face-to-face course taking place on 1-4 July 2018 in Vienna, Austria
Post-course support and coaching from July to the end of October 2018
Major Milestones
Since the 2017 edition, the Programme has taken big steps forward, particularly in the area of maintaining follow-on engagement with participants after the end of the face-to-face course thanks to a pragmatic approach and the use of a wide variety of practical exercises. Participants were split into six small teams and worked on projects about:
Invisible illnesses – fighting stigma and overcoming discrimination
Youth with chronic conditions at school
How to communicate about your condition to the outside world
Interestingly, the bottom line outcome for all teams is their aim at continuing with the awareness raising work, gaining more and more expertise in patient advocacy and engaging with their local communities.
EPF Youth Group - leading by example!
The EPF Youth Group played a major role in the development of the Training Course from its very beginning and remained involved until the end of the Course – an Online Closing Celebration Event where the participants, proudly presented their achievements.
Should you like to know more about STYPA and the Youth Group, please contact Lyudmil Ninov, Project Officer and Valentina Strammiello, Senior Programme Manager.