IMMUcan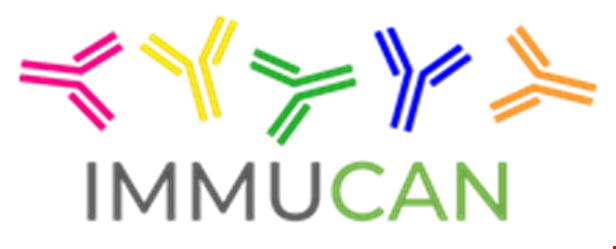 Project Information:
Full title: Integrated immunoprofiling of large adaptive cancer patients cohorts (IMMUcan)
Duration: 65 months (1 March 2019 - 31 August 2024; extended to August 2025)
Status: Ongoing
Funding programme: Innovative Medicines Initiative 2 (IMI2; Grant Agreement 821558)
What will the project do?
Some new cancer treatments harness the immune system to fight the disease. However, for most patients, they do not deliver a long-lasting response and they often cause unpleasant side effects. To address these challenges, IMMUcan aims to study the tumour microenvironment in a bid to gain a deeper understanding of how the immune system and cancer cells interact at the molecular level.
What are the expected outcomes?
Using cutting-edge technologies, the team will analyse tumour tissue, blood, stool and saliva samples as well as clinical information from some 3 000 patients with colorectal, lung, head and neck, breast, gastric and renal cancers.
By comparing patients who are not going through immune therapy with patients who are, the project hopes to build up a detailed picture of the tumour and its microenvironment, and the impact of current treatments. This information could be used to further improve existing treatments and to develop new ones.
In the longer term, the project results could result in the identification of biological markers that will show which patients are most likely to respond well to immune therapies, and which patients would benefit from a combination of immune therapies and conventional treatments.
What is EPF's role?
EPF is proud to take the lead of Work Package 2 together with EORTC, which is aimed at developing and implementing an effective dissemination and communication strategy for the project. We look forward to getting started and expect that the knowledge gathered from this project will be transferable.
Consortium:
The consortium is led by EORTC and includes 19 other partners, including 10 expert clinical centers.
Abbvie Inc, North Chicago, Illinois, United States
Bayer Aktiengesellschaft, Leverkusen, Germany
Eli Lilly And Company Limited, Basingstoke, United Kingdom
Glaxosmithkline Research And Development LTD., Brentford, Middlesex, United Kingdom
Institut De Recherche Pierre Fabresas, Toulouse, France
Institut De Recherches Internationales Servier, Suresnes, France
Janssen Pharmaceutica Nv, Beerse, Belgium
Merck Kommanditgesellschaft Auf Aktien, Darmstadt, Germany
Sanofi-Aventis Recherche & Developpement, Chilly Mazarin, France
Centre De Lutte Contre Le Cancer Leon Berard, Lyon, France
Centre Hospitalier Universitaire Vaudois, Lausanne, Switzerland
Charite - Universitaetsmedizin Berlin, Berlin, Germany
De Duve Institute, Bruxelles, Belgium
European Organisation For Research And Treatment Of Cancer Aisbl, Brussels, Belgium
Fundacio Centre De Regulacio Genomica, Barcelona, Spain
Institut Curie, Paris, France
Institut Jules Bordet, Brussels, Belgium
Institut National De La Sante Et De La Recherche Medicale, Paris, France
Katholieke Universiteit Leuven, Leuven, Belgium
King's College London, London, United Kingdom
Ligue Nationale Contre Le Cancer, Paris, France
Luxembourg Institute Of Health, Luxembourg, Luxembourg
SIB Institut Suisse De Bioinformatique, CH-660-0733998-3, Genève, Switzerland
The University Of Birmingham, Birmingham, United Kingdom
Universitat Zurich, Zürich, Switzerland
Weizmann Institute Of Science, Rehovot, Israel
Owkin France, Paris, France
European Patients' Forum (EPF), Brussels, Belgium
TO LEARN MORE ABOUT THE PROJECT, VISIT THE WEBSITE AND SOCIAL MEDIA PROFILES: