PROPHET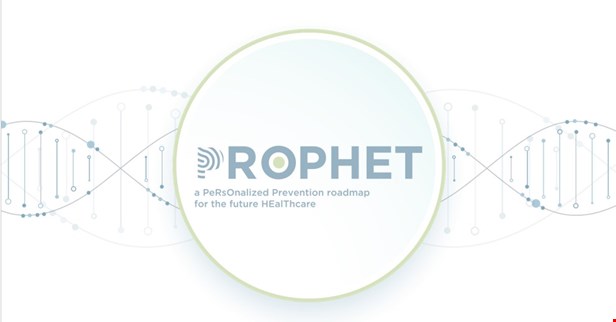 Project information
Full title

:

PROPHET (PeRsOnalised Prevention roadmap for the future HEalThcare in Europe)

Duration

:

48 Months (1 September 2022 – 31 August 2026)

Status

: Ongoing

Funding programme

:

PROPHET is funded by the European Commission under the Horizon Europe research and Innovation Programme, under

Grant agreement ID:

101057721.
What will the project do? 
PROPHET will engage organisations and individuals in order to contribute to building a Strategic Research Innovation Agenda to adopt Personalised Prevention approaches into EU health systems.
What are the expected outcomes?
PROPHET will deliver specific measures to educate and empower different stakeholder groups – citizens, healthcare professionals, and policy makers – to play an active role in the self-management of health and self-care.

The project will build a Personalised Prevention Roadmap for the future healthcare, that will be co-created together with a large panel of stakeholders gathered in the PROPHET Stakeholder Forum.
The Personalised Prevention Roadmap aims to support the definition and implementation of innovative, sustainable and high-quality personalised strategies that are effective in preventing chronic diseases.
What is EPFs' role?
EPF's participation in the project will centre around:
mapping current practices and gaps in patient engagement in personalised prevention;

capacity building activities for member organisations;
and supporting the project's impact and

visibility with communications activities.
Why does this matter for patients?
Prevention is in fact a high priority at the European level: 900,000 people in EU countries die prematurely every year due to risk factors that can largely be prevented through a shift from the treatment of established diseases to a "person-centered" disease prevention and early diagnosis, where citizens and patients are equals and active partners in their care pathway.
The consortium:
The PROPHET project is a multidisciplinary group of 18 partner organizations from across 12 Countries working on the different dimensions of Personalized Prevention

.

Partners include representatives from research organisations, healthcare organisations, patient and citizen associations, public authorities, scientific societies, and companies involved in innovative topics.
Partners:
Università Cattolica Del Sacro Cuore (coordinator

)

Foundation For Genomics & Population Health

Consorcio Centro De Investigacion Biomedica En Red M.P.
Stichting Vumc

University Of Debrecen, University Of Tartu

Universiteit Gent

Katholieke Universiteit Leuven

Karolinska Institutet
Fondazione Policlinico Universitario Agostino Gemelli Irccs

Instituto De Salud Carlos Iii

Instituto Nacional De Saude Dr. Ricardo Jorge

Finnish Institute for Health And Welfare

Cittadinanzattiva APS
European Patients Forum

European Public Health Association

European Molecular Biology Laboratory-ELIXIR and Biobanks And Biomolecular ResourcesResearch Infrastructure Consortium BBMRI-ERIC

Allelica SRL

G.A.C.