PREFER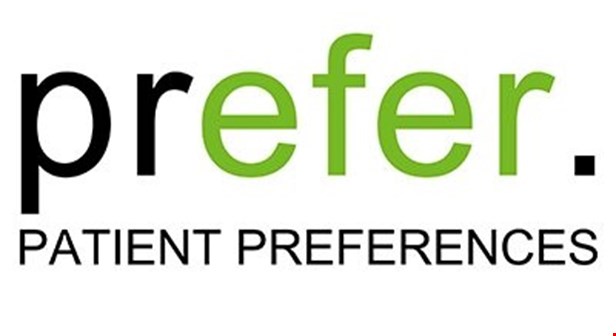 Basic project information:
Full title: PREFER patient preferences
Duration: 1 October 2016 to 30 September 2021; 60 months (extended to March 2022)
Status: Ongoing
Funding programme: Innovative Medicines Initiative 2 (IMI2; Grant Agreement 115966)
What will PREFER do?
The PREFER project aims to assess when and how patient preferences on benefits and risks should be incorporated into decisions on medicinal products.
The project runs patient preference studies in both academic and industry settings, and brings together experts from academic research institutions, pharmaceutical companies, patient organisations, a health technology assessment body, and small and medium-sized enterprises.
What are the expected outcomes?
The goal of PREFER is to provide a set of systematic methodologies and recommendations to assess, engage and include patient perspectives during the development, approval, and post-approval of new therapies.
PREFER will establish recommendations to support the development of guidelines for industry, Regulatory Authorities and HTA bodies on how and when to include patient perspectives on benefits and risks of medicinal products.
What is EPF's role?
The European Patients' Forum plays a key role to ensure that the patient perspective is thoroughly reflected in the design and implementation of this project. EPF is involved in the Patient Advisory Group, s to provide patient intelligence across the project. In close collaboration with patients, regulators, health technology assessment (HTA) bodies and payers, EPF ensures that recommendations are evidence based, relevant and useful.
Why does it matter for patients?
The patient perspective is important in all medical research and particularly in drug development.
Industry, regulatory authorities, health technology assessment bodies, reimbursement agencies and patient organisations all agree that patient preferences are very valuable, but there is still little guidance on conducting and using such studies.
PREFER aims to fill this gap by providing a set of systematic methodologies and recommendations to integrate these valuable patient preferences into medicines development at the right time.
The consortium:
The consortium is composed of 31 partners research infrastructure, academic representatives of new prospective member countries as well as umbrella organisations representing the patients' voice and biotech companies.

Uppsala Universitet, Uppsala, Sweden
Novartis Pharma AG, Basel, Switzerland
Centre Federal D'Expertise Des Soins De Sante, Brussels, Belgium
Erasmus Universiteit Rotterdam, Rotterdam, Netherlands
Katholieke Universiteit Leuven, Leuven, Belgium
The University Of Birmingham, Birmingham, United Kingdom
Universitair Medisch Centrum Utrecht, Utrecht, Netherlands
Universitatsklinikum Erlangen, Erlangen, Germany
University Of Newcastle Upon Tyne, Newcastle Upon Tyne, United Kingdom
AbbVie Ltd, Maidenhead, United Kingdom
Istituto Europeo Di Oncologia SRL, Milan, Italy
Mindbytes, Merksplas, Belgium
Steinbeisser Project Management Ug (Haftungsbeschrankt), Munich, German
Actelion Pharmaceuticals LTD, Allschwil, Switzerland
Amgen Limited, Cambridge, United Kingdom
Astellas Pharma Europe BV, Leiden, Netherlands
Astrazeneca AB, Södertälje, Sweden
Bayer Aktiengesellschaft, Leverkusen, Germany
Csl Behring GMBH, Marburg, Germany
Eli Lilly And Company Limited, Basingstoke, United Kingdom
Istituto Europeo Di Oncologia SRL, Milan, Italy
Mindbytes, Merksplas, Belgium
Steinbeisser Project Management Ug (Haftungsbeschrankt), Munich, German
F. Hoffmann-La Roche AG, Basel, Switzerland
Janssen Pharmaceutica Nv, Beerse, Belgium
Merck Kommanditgesellschaft Auf Aktien, Darmstadt, Germany
Merck Sharp & Dohme Corp, Whitehouse Station, New Jersey, United States
Pfizer Limited, Sandwich, Kent , United Kingdom
Sanofi-Aventis Recherche & Developpement, Chilly Mazarin, France
Takeda Pharmaceuticals International AG, Glattpark-Opfikon (Zurich), Switzerland
TO LEARN MORE ABOUT THE PROJECT, VISIT THE WEBSITE AND SOCIAL MEDIA PAGES: