EPF Congress 2019: There's nothing for patients without patients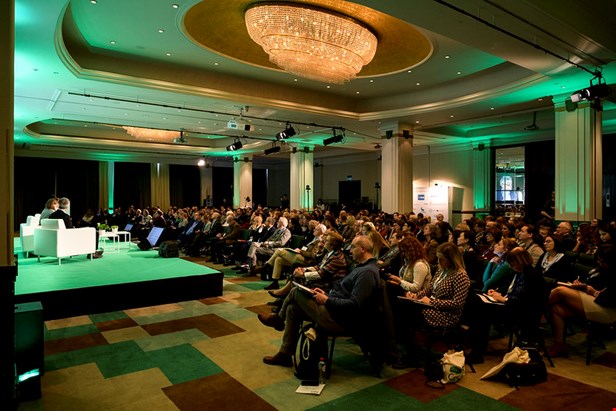 This month EPF hosted its first ever Congress on patient involvement entirely driven by the patient community.
Over 300 delegates, including patient advocates, healthcare professionals, health NGOs, academics, members from industry and national institutions made their way to the Crowne Plaza Hotel in Brussels, where the Congress was held. Joined by more than 60 speakers the Congress considered opportunities and barriers for meaningful patient, drawing upon a myriad of examples of effective practice.
"Nothing must be for the patients without the patients" said EPF President Marco Greco.
From a Hackathon on enabling patient involvement by balancing ethical considerations, to inspirational plenaries and constructive parallel sessions, the patient voice was fully in the spotlight as patients and patient advocates featured among both keynote speakers and panellists. Real life stories on self-management, added value, and teaching in medical school among others highlighted a different level of patient empower and perspectives from other stakeholders such as regulators, academics, members of industry, national governments, health NGOs and EU institutions all contributed with tangible ideas and measures to integrate patient involvement in our health systems.
The parallel sessions offered an opportunity to look at specific issues related to patient involvement with a more in-depth perspective: each began with its own panel of experts in the morning, followed by an afternoon of groupwork based on previous discussions.
Other highlights included an encouraging speech by Commissioner for Health and Food Safety Vytenis Andriukaitis, an interactive closing session during which all participants were asked to write out their vision for the future of patient involvement and several roleplays sessions. The latter were acted out by the EPF Youth Group and consisted of several life-like scenarios involving patients being discriminated against, to demonstrate how lives are hampered by inequalities: each was presented with negative and positive endings, to show best practices and ways discrimination should be overcome.
This Congress was the living proof that meaningful patient involvement is an esteemed and endorsed practice in many different fields, and that working together is key: now is the time to act, and build from our own evidence and stories. We would like to thank every single person who took part in EPF Congress for their active contributions, and for generously adding to our live feed on twitter and on youtube. Take a look at our Congress report, keynote speakers' presentations, Congress mentions, photos and videos here below.
Speaker presentations
Day 1
Presentation_Cees_Smit.pptx
Presentation_Sara_Riggare.pptx

Day 2
Presentation_ProfJanDeMaeseneer.pptx
Presentation_MarcBoutin.pptx
Day 3
Intro_KaisaImmonen.pptx
Presentation_StijntjeDijk.pptx
Presentation_TessaRichards.pptx
EPF Congress mentions
EPF Congress Report by ESICM (European Society for Intensive Care Medicine)
COMPAR-EU project
Incisive Health: What is needed for people-centered healthcare to become a reality
EPF Congress in pictures
Day One - flic.kr/s/aHsmJtGERm
Networking Reception - flic.kr/s/aHsmJuGYzF
Day Two - flic.kr/s/aHsmJwNhk3
Gala Dinner - flic.kr/s/aHsmJx5QCi
Day Three - flic.kr/s/aHsmJxfCwR
Cartoons - flic.kr/s/aHsmJs43e2
Photobooth - photo-booths-be.fotoshare.co/a/ST-3862-EN-1210
EPF Congress on video
Short teaser
Full event trailer