Join us!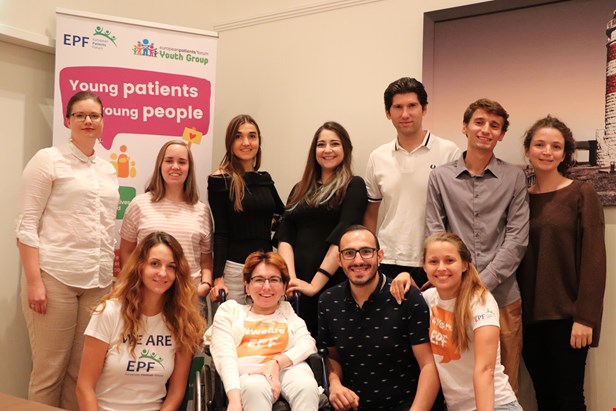 Become part of the young patient community!
The aim of the EPF Youth Group is to become the reference group of the young patient community and its role is to communicate the needs and expectations of young patients to EPF and its members. Youth Group members are expected to advocate on behalf of all young patients to ensure the youth perspective is provided and to actively promote the involvement of young patients within patient organisations at both the European and national level.
Why join the EPF Youth Group?
The EPF Youth Group provides many benefits to its members. We represent the young patients' voice at the European level on cross-cutting health issues.
Here is a highlight of some of EPF Youth Group's benefits to its members:
Practice professional patient advocacy in a safe environment
Represent the young patient perspective on key platforms within and beyond EPF and its' members
Engage and participate in EPF's work
Have an active role in shaping EU policies concerning young patients
Grow and develop in areas like project management, communications, public speaking, leadership and much more
Provide real evidence for real change
Keep up with the latest news from Europe on what really matters for young patients
Network and collaborate with other young patients from all over Europe
Be part of a strong and united young patient community
EPF Youth Group members are required to:
Attend the semi-annual in-person meetings (Spring and Fall) and report main outcomes and conclusions back to their organisation,
Participate in group teleconferences and social media communication,
Help the EPF Secretariat develop and implement projects and initiatives to accomplish the goals of the EPF Youth Strategy,
Feedback ideas, views and opinions and bring youth issues and opportunities to the EPF Youth Group.
In order to become a member of the EPF Youth Group, an individual must:
Be an EU citizen between the ages of 18-30,
Have a chronic condition (OR be an experienced and passionate patient advocate and/or carer),
Be nominated by a patient organisation which is a member of EPF (but not an employee of this organisation),
Have a working knowledge of English,
Be committed to attending 2-3 physical meetings every year,
Show strong motivation and willingness to take a proactive role in engaging with the young patient community,
Be able to work well within a cross-cultural team with fairness, integrity and respect
APPLY NOW!
To apply to the EPF Youth Group, send an email to youthgroup@eu-patient.eu with:
Endorsement Letter from your represented EPF member organisation
Thank you for taking the next step towards patient advocacy!