Youth Strategy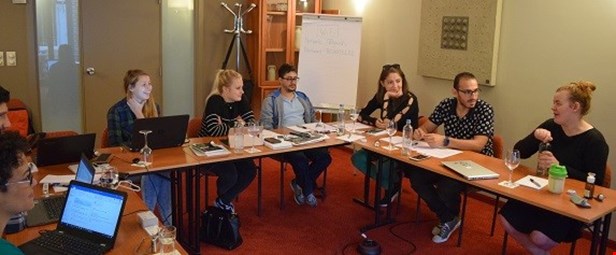 The EPF Youth Group plays an important role in the implementation of the EPF Youth Strategy. EPF's first youth initiative dates back to 2008, when the Young Patient Perspective Project was implemented. In an attempt to enable patient organisations to recognise and represent the particular needs of young patients, we dedicated our 2010 Regional Advocacy Seminar to sharing good practices of young patients' participation in patient groups. Following the outcomes of this seminar, an EPF Youth Strategy was developed and later adopted at the EPF 2011 Annual General Meeting. On that occasion, the EPF Youth Group was established and the first Youth Assembly was later held in Brussels, on 19-21 August 2012.
The overall objective of EPF Youth Strategy is to enable EPF to recognise, understand, meet, and effectively represent the requirements of young patients through their meaningful involvement and empowerment. In order to achieve this, EPF has identified four main strategic goals which will guide the implementation of the Youth Strategy:
Strengthening the involvement and representation of young patients in patient organisations.
Promoting young patients' rights and recognition of their needs and expectations within and beyond health policy area.
Promoting a better cooperation between young patient and adult patient advocates.
Strengthening young patient representatives' skills and self-confidence.
On their behalf, EPF's Youth Group established their five core goals:
Provide support to the EPF Secretariat in the implementation, monitoring, and revision of the EPF Youth Strategy
Advocate for and on behalf of all young patients to ensure a youth perspective is provided to EPF on the range of issues covered by EPF as well as issues relating directly to youth.
Bring evidence of needs and expectations of young patients through ongoing input as requested by the EPF Secretariat as well as through specific youth projects and initiatives
Help the EPF Secretariat effectively reach out to the wide young patient community in the European Union
Actively promote the involvement of young patients within patient organisations at both European and national level.
The EPF Youth Group will engage in any activities to further the goals detailed above.